Playa Paraiso Sports Centre
---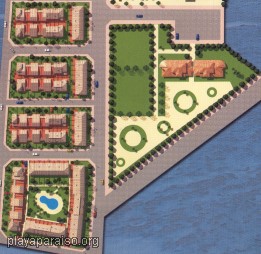 Those of you who have looked at the new webcam will have seen that the long awaited Sports Centre is taking shape.

When we bought our house at Playa Paraiso we were told that there would be a football pitch and a couple of tennis courts on the field next to the Salinas, but we had long despaired of anything happening on the wasteland.

Out of the blue, however, on 19th March, the builders turned up and work has been progressing at a fast pace since then.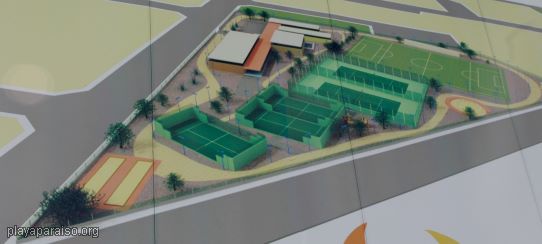 The picture above right shows it as originally featured in the sales brochure and then the plan above is what is currently being built. However, we understand that there may be minor changes to this as work progresses! From this and various articles that have been published, it seems that the following will be featured in the Centre:

Astro turf 5 a side football pitch
Two tennis courts (hard surface)
Three paddle tennis courts (one perspex covered and the other two with a hard surface)
Two pentanca courts (metal bowls)
A gymnasium
Thermal Foot Spa
Jacuzzi(s)
Changing Rooms
Reception


The Centre, which is reported to be costing nearly one million euros, is supposed to be completed sometime in the summer and it is understood that it will be managed by Cartagena Council.

---
Update 25/11/10:
After years of work the sports centre in now in use.
Although still not completed, the football pitch is now in use most weekday evenings for practice sessions and matches at the weekend.
It seems that the company who will run the facility, will be responsible for the finishing touches. It's not known when this will happen.


---
This photo was taken soon after the work started. The concrete base for the wall, which we are told will either be chain link fence or some type of perspex, has now been put in around most of the perimeter. Hopefully, this will not spoil the view of the Mar Menor and the Salinas too much for houses fronting the Centre. To check on current progress, click here to look at the web cam.

---
Home - Web Cam - Full Site Index
(c)2008 C Edwards